GLASGOW AIRPORT (GLA) INFORMATION
Origin
Airline
Flight no.
Scheduled
Est./Actual
Status
No flight arrivals were found at Glasgow Airport.
Destination
Airline
Flight no.
Scheduled
Est./Actual
Status
No flight departures were found at Glasgow Airport.
Car Hire at Glasgow Airport
UNBEATABLE VALUE CAR RENTAL
Free Amendments | Free Cancellations | No Card Fees




Glasgow Airport - All Information on Glasgow Airport (GLA) Glasgow Airport
Paisley, Renfrewshire, Scotland, PA3 2ST
phone +44 (0) 330 223 0893
phone+44 (0) 330 223 0893 (Lost + Found)
emailcustomercomments_glal@baa.com
emailglasgow@luggage-point.co.uk (Lost+Found)
Facts and History about Glasgow Airport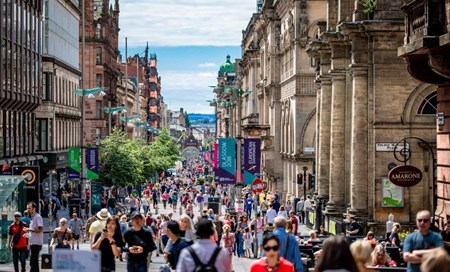 Glasgow Airport is located 8 miles (13 km) from the center of Glasgow city, and is one of the busiest airports in the United Kingdom. Second only to Edinburgh, Glasgow Airport is also one of the busiest in Scotland, and handles over 9.6 million passengers per year. The airport is owned and managed by BAA, a company which is also in control of another five major UK airports. BAA is in turn owned by ADI Limited, an international consortium led by the Spanish Ferrovial Group.
Glasgow Airport has the official IATA code of GLA, and its ICAO code is EGPF. It consists of one terminal building, plus an additional check-in facility known as T2, and one main runway. The runway at the airport is 2,658 meters long, and handles an average of 237 flights per day by various aircraft, including the Boeing 747, 737, 757, 767, 777, Airbus A310, A330, Dash and Embraer. Currently, the total aircraft movements per year for Glasgow Airport are 87,000, and there are approximately 30 different airline companies offering flights to 90 destinations worldwide. Some of the most popular destinations from Glasgow Airport are Heathrow, Gatwick, Stansted, Luton, Birmingham, Amsterdam, Tenerife, Palma, Alicante and Dubai. Spain is regarded to be the most favored country, while Birmingham is the most popular domestic destination outside of London. On average, there are 69 flights operating from Glasgow airport every day, and 484 flights per week. The airport is open for business 24 hours a day, every day of the year.
This international airport is a base for the airline companies of BMI Regional, Flybe, Thomas Cook Airlines and Thomson Airways, and there are also maintenance facilities for British Airways located on the airport site. Thomas Cook Airlines offers flights to destinations such as Alicante, Ibiza, Faro, Vancouver, Toronto-Pearson, Tenerife-South, Malta and Rhodes, while Thomson Airways flies to Geneva, Orlando-Sanford, Verona, Cape Verde and Naples, along with many other destinations. Some of the other notable airline companies operating at Glasgow Airport include EasyJet, with flights to Belfast-International, London-Gatwick, London-Stansted and London-Luton, Emirates with flights to Dubai, KLM with flights to Amsterdam, and Viking Airlines, with flights to Alicante, Corfu, Faro and Tenerife-South. Air Europa, Air Malta, Air Southwest, Bmibaby, Aer Lingus Regional, US Airways and Continental Airlines are also in operation from Glasgow Airport. In terms of cargo, Glasgow Airport handles approximately 3,000 tons per year. Cargo airlines at the airport include FedEx Feeder, operated by Air Contractors, flying to destinations such as Dublin, London-Stansted, Manchester and Paris-Charles de Gaulle.
Information about car rental companies at Glasgow International Airport, and transfer options from Glasgow Airport.
Glasgow Airport dates back to 1932, and was then referred to as the Glasgow Abbotsinch Airport, due to its location. Various military and naval operations took place at the Abbotsinch location during the time period of 1932 and 1960. It was then decided that the city required a new airport. At a cost of £4.2 million, the new construction was completed in 1966, and opened officially by Queen Elizabeth II on 27 June 1966. From 1975 Glasgow Airport fell under the ownership of BAA, and in 1989 they embarked on a massive redevelopment plan for the airport. The terminal building was greatly extended, a dedicated international departure lounge and pier were added to the western side of the building, and in 2003, the former St. Andrews Building was reconstructed as the new satellite building, T2. This facility was designed to provide a dedicated check-in area for low cost airlines such as Aer Lingus, and Virgin Atlantic Airways. Glasgow Airport is the 8th busiest airport in the UK, with over 9.6 million passengers per year.
GLA is the official IATA code for Glasgow Airport. Glasgow Airport is also known as Glasgow International It is possible to enter the following GPS coordinates 55.87194, -4.43306 to aid you in your travelling to and from Glasgow Airport.
Arrivals and Departures at Glasgow Airport
Hotels near Glasgow Airport
There are a number of hotels to suit all budgets and requirements at or near Glasgow Airport.
Parking at Glasgow Airport
See options for parking services at Glasgow Airport.
Additional Services and Amenities at Glasgow Airport
At Glasgow Airport you will find the usual array of bars and restaurants, airport lounges and shops.
Things to do in Glasgow
There are a number of activities to suit all ages and interests in the region - see a selection of tourist activities in Glasgow City, Scotland.
Services at Glasgow Airport
Useful Information about Glasgow Airport