Glasgow Airport Arrivals (GLA)
Not all flights may be showing. If not available use search above to find your flight by airline, airport or flight number.
Origin
Airline
Flight no.
Scheduled
Est./Actual
Status
Rome (FCO)
Air Horizont
HT2285
01:54
Scheduled
Rome (FCO)
Jet2
LS6625
02:44
Scheduled
No flight arrivals were found at Glasgow Airport.
Flight Arrivals at Glasgow Airport
Glasgow International Airport handles over 9.6 million passengers per year, and is the second largest airport in Scotland. It is also one of the major gateways to the United Kingdom. The airport is situated only 8 miles, or 13 km from central Glasgow, and is nearby many important towns and cities. Arriving passengers will find all the facilities they need at Glasgow Airport.
Glasgow Airport consists of one main terminal building and a satellite extension. The main building is referred to as Terminal 1, while its extension is T2, and these two areas are connected by a walkway. Domestic and international arrivals are handled in the main terminal, as T2 is only used for low-cost airline check-in procedures. Passengers arriving by aircraft will enter the terminal building on the ground floor. International flight passengers will need to go directly to passport control and Customs. The passport control area is clearly signposted, and there are two separate queuing areas. One queue is dedicated to the European Union (EU), European Economic Area (EEA), British nationals and Swiss nationals, while the second queue is for all other nationalities. Passengers will need to show a passport or travel document, and all other relevant documentation to the UK Border Agency officer. Also ensure that your passport is valid and will not expire during your visit to the United Kingdom.
After you have cleared passport control, you may proceed to the baggage reclaim area to collect your belongings. The information screens will show you which carousel to use. Baggage trolleys are available in the baggage reclaim area, as well as in other areas of the terminal building. No adults or children are allowed to ride on the trolleys for safety reasons. Passengers with items to declare should go to the Customs red point. If you have nothing to declare and you are from a European Union country, your baggage will have a green-edged tag (use the blue exit), and if you are from a country outside of the European Union your baggage with have a plain white tag (use the green exit). Passengers who are transferring between two international flights may have their baggage put straight through to their final destination, with no need to collect it in between flights, however, it is still necessary to declare any items in your hand luggage.
Glasgow Airport has all the necessary facilities available for arriving passengers, including banking and currency exchange services, business services, family entertainment areas and baby changing rooms, a post office, worship rooms, internet connections, and many shopping and dining outlets. There are two VIP lounges at the airport, one of which welcomes children of all ages, and the Glasgow Business Center offers conference and meeting rooms for hire. The nearby Travel Inn also offers conference facilities for up to 35 people. The airport's Left Baggage facility can be found in the check-in hall on the ground floor, and is operated by Airport Management Services (UK) Ltd. They are open from Monday to Friday between 08:00 to 18:00, and on weekends from 09:30 to 16:00. The lost property office is located in the check-in hall on the ground floor. There are also a number of car rental companies at Glasgow Airport.
A few hotels are within walking distance of Glasgow Airport, or are very nearby the terminal. The Premier Travel Inn, situated close to the M8 motorway, offers conference and business facilities, while the Holiday Inn Express is located in St Andrews Drive, only a hundred meters away from the airport. The Holiday Inn offers more than 140 guest rooms, a restaurant, bar and many other facilities. Other nearby hotels include the Travelodge and Hotel Inn situated in Abbotsinch Paisley.
An information desk is available on the first floor of Glasgow Airport, next to the UK and Ireland departure areas, while further information on transport options is available from the Strathclyde Passengers Transport desk on the ground floor in UK arrivals. Help with accommodation and general tourism information is available as well from the desk in the international arrivals concourse.
Was your flight delayed or cancelled?
You may be eligible to receive up to 600 EUR compensation per person in your party..
Claim Now!
Beat the Queues
Don't stand sweating for 45 mins waiting for Security. Get a fast track and get through in 5 mins or less.
Book now
Lounge like a VIP
Avoid the crowds. Get discounted access to the VIP airport lounge. Its not as expensive as you may think.
Book now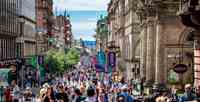 Glasgow Airport consists of one main terminal building (T1), and a satellite extension area (T2)...