Glasgow Airport Departures (GLA)
Not all flights may be showing. If not available use search above to find your flight by airline, airport or flight number.
Destination
Airline
Flight no.
Scheduled
Est./Actual
Status
No flight departures were found at Glasgow Airport.
Flight Departures at Glasgow Airport
Glasgow International Airport is located 8 miles from central Glasgow, and is the second largest airport in Scotland. Serving more than 9.6 million passengers per year, Glasgow Airport is also one of the largest in the United Kingdom. Departing passengers will find over 30 different airline companies in operation at the airport from which to choose, and these airline companies collectively offer flights to 90 worldwide destinations. Some of the most popular international destinations from Glasgow Airport include Amsterdam, Spain, France, Dublin, Portugal and Orlando Sanford Airport in the United States. Popular domestic destinations include London Heathrow Airport, Bristol Airport, Belfast City Airport in Northern Ireland, Birmingham Airport and Cardiff Airport in Wales.
Glasgow Airport consists of one main terminal building referred to as Terminal 1, and a satellite extension area referred to as T2. These two buildings are linked by a walkway. The airport serves many airline companies, and is a base for BMI Regional, EasyJet, Flybe, and Thomson Airways. Check-in for the low cost airlines of Aer Lingus, Canadian Affair, and Virgin flights are handled in T2. The check-in desks at the airport are numbered as 1-39 in the main terminal building, and 40-64 in the satellite terminal. In the main terminal building, all the check-in counters are found in the center of the concourse, with Domestic Arrivals and International Arrivals on either side. Domestic and International Departures are found on the first floor of the main terminal.
EasyJet offers flights to destinations such as Alicante, London-Gatwick, Paris-Charles de Gaulle, London-Stansted, London-Luton and Faro, while Thomas Cook Airlines include the destinations of Vancouver, Tenerife-South, Orlando-Sanford, Ibiza, Calgary and Alicante for their flights. Thomson Airways flies to Verona, Cape Verde, Corfu, Rhodes and Geneva, among many other destinations. Other airline companies in operation at Glasgow Airport include Emirates, Continental Airlines, British Airways, KLM, Bmibaby, Air Southwest, Aer Lingus Regional, Air Europa, Air Malta, US Airways, Viking Airlines and Virgin Atlantic Airways.
It is advised to arrive in plenty of time for your departure flight. You will need time to find an adequate parking space, check-in hold baggage and pass through the security check points. Your airline ticket will usually have specifications on how early to arrive at the airport, but as a general guide, long-haul flights require three hours prior to departure, European flights require two hours, and UK and Ireland flights require one hour prior to scheduled departure. Once you have checked in, you will need to pass security control, which is located on the first floor. Information screens will keep you updated with flight departure and boarding times, and gate numbers. Boarding usually begins around 45 minutes before departure. The check-in process can be made easier by using the self-service kiosks or by checking-in online before you leave for the airport. The self-service kiosks are located near the check-in desks, and are available for passengers flying with Bmibaby, British Airways and Flybe. After checking in, your baggage can be taken to the bag drop location. Online check-in is offered by airlines such as British Airways, Bmi and KLM Cityhopper, as well as for passengers with an e-ticket from Continental Airlines.
The terminal at Glasgow Airport has all the amenities required by departing passengers, including banking services, currency exchange services, business facilities, a post office, internet connections, family entertainment facilities, baby changing rooms, dining outlets and many interesting shopping opportunities. There are also great views of the runway and airport activity to be enjoyed, massages available at the Relaxation Station after security and worship rooms for religious passengers. The Holiday Wing is an airport lounge which welcomes children of all ages, and offers entertainment with toys, games, consoles, DVDs and digital TV, and the Business Wing offers a relaxing environment in which business class passengers can continue their work. Both lounges offer complimentary tea, coffee and soft drinks, alcoholic drinks, snacks, newspapers and magazines and internet access. Further business facilities are available from the Glasgow Airport Business Center, which has conference and venue rooms for hire. The Travel Inn also offers conference facilities for up to 35 people.
Glasgow Airport is fully accessible to disabled passengers, and passengers with reduced mobility, however, if further assistance is required, help points are available on every level of Car Park 2, next to the blue badge spaces in Car Park 1 and 3, in Bute Road for passengers arriving by coach, in front of the terminal building, in T2 and nearby the reserved seating areas in the terminal. Assistance can also be booked with your airline when reserving your plane ticket, or at least 48 hours before your flight. Glasgow Airport offers facilities for hard of hearing, blind and partially sighted individuals as well. Payphones and credit card telephones are adapted for hearing aids, and there is a text payphone on the first floor. Mini-loops are installed throughout the terminal, and guide dogs are permitted.
There are plenty of parking options at Glasgow Airport, including short-term and long-term parking facilities. Passengers can also use the short-term fast track parking area for quicker access to the terminal area. Passengers who do not wish to drive their own vehicle to the airport can use the bus services, Bus Service 747 or Bus Service 66 to reach the airport, as well as coach services which travel from national destinations. These bus services also connect the airport with the train stations, as there is no actual railway station at the airport. Taxis can be booked or found at any of the main public areas in Glasgow.
Further enquiries about the services at Glasgow Airport can be made at the information desk on the first floor of the terminal, next to UK and Ireland Departures. Additional transport information is also available from the Strathclyde Passenger Transport desk on the ground floor in UK Arrivals
Was your flight delayed or cancelled?
You may be eligible to receive up to 600 EUR compensation per person in your party..
Claim Now!
Beat the Queues
Don't stand sweating for 45 mins waiting for Security. Get a fast track and get through in 5 mins or less.
Book now
Lounge like a VIP
Avoid the crowds. Get discounted access to the VIP airport lounge. Its not as expensive as you may think.
Book now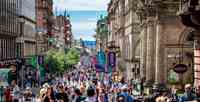 Glasgow Airport consists of one main terminal building (T1), and a satellite extension area (T2)...